Stains That Require Professional Carpet Cleaning
10/17/2016
Back To Blog
You might have had a late night party, a dinner date, Netflix date, or just had a clumsy accident while in the house. The way it happened doesn't really matter once it's done. A giant stain anywhere on your lovely fresh carpet can be an eyesore worth crying over.
Your immediate reaction after a brief whimper, will be to rush for the broom, dust pan, any type of cloth you can find or perhaps the nearest lemon. But no matter how hard you scrub or how many magical remedies you try, some stains won't budge.
There are some substances that can't be cleaned without the help of a professional. Here we've built a list compiling some of the most common stains that you shouldn't even bother getting on your hand and knees for. Only an expert carpet cleaner with the right tools will have a chance at removing these.
Bright orange or yellow soda
There is a particular coloring additive used in many sports drinks, and light orange or yellow fizzy drinks that has become notorious for creating impossibly difficult stains. The additive is commonly called "sunset yellow coloring". If you suffer a spill from a drink with this in it, it's best to have the card of a carpet cleaning company handy, as it won't take long before you realize that this stuff is going nowhere.
All types of blood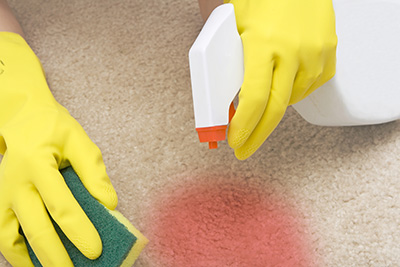 This of course includes human blood. This can be more common than you think. People have accidents all the time and most families will transport all kinds of meat through the house on a daily basis.
Temperature plays an important role here. If it's a warm day or you make the wrong move by reaching for a warm or hot cloth to clean it up, things will get worse. Blood sets when it's heated up. A blood stain that has been set is then abundantly harder to clean.
It will take you hours of hard labor and elbow grease to deal with this one. A carpet stain removal expert however will know how to erase the blood perfectly, while bringing minimal damage to your carpet.
Mold stains
These stains are common as mice, and just like mice, are a sign of degrading conditions. They are stubborn, awful looking and have a high chance of returning over time. A specialist in mold removal will be able to perform a mold inspection of the affected area and advise on the best ways for you to stay mold free in future.